Chemical Department
Greeting
Greetings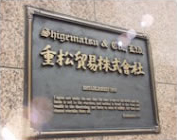 For long years, we have been supplying numbers of products and information from all over the world to our customers in need. Our customers are spreading in the various fields such as pharmaceuticals, diagnostics, chemicals, foods, electronics industries, and also universities and various types of public institution in Japan.
In the past years, Japan has been facing the rapid globalization trend and that is creating the extremely intense demands to the products and information from overseas.
Taking advantage of our global networks built upon our long term experiences, we are connecting the required products or information in the world to our customers and we further bring the new valuable products and information to our customers from our side too.
The globalization of our country is speeding up and the rapid development of scientific technologies is bringing the big wave of innovation into every market. Under this condition, our customers need much more professional and sophisticated overseas products and information.
In order to respond to our customers' such request timely and properly, we always work hard to get the most updated and provisional information while receiving the advices from our professional staffs in each field.
It is our fundamental mission to bring the valuable products and information from all over the world to our customers working in the fields such as research and development, purchasing, producing, distributing in the pharmaceuticals, diagnostics, foods, chemicals and electronics markets, or , in academic area like universities and public institutions.
We will be looking forward to receiving your inquiry for any product or information from abroad.
Main Handling items
Products
Industrial Chemicals / Raw Materials
* Organic Chemicals
* Inorganic Chemicals
* Metal Chemicals
* Biochemicals

* Pharmaceutical Intermidiates
* Pharmaceutical Raw Materials
* Agricultural Chemicals
* Food Additives
* Food Materials
* New functional Food Materials
* Raw Material for Diagnostic
* Organic Chemicals
* Inorganic Chemicals
* Metal Chemicals
* Biochemicals
* Pharmaceutical Intermidiates
* Pharmaceutical Raw Materials

* Agricultural Chemicals
* Food Additives
* Food Materials
* New functional Food Materials
* Raw Material for Diagnostic
Products for Research and Development
* Organic Compounds Reagents
* Inorganic Compounds Reagents
* Metal Compounds Reagents

* Specialty chemicals for laboratory
* Biochemicals Reagents
* Various Measurement Kit
Product lines we carry
Drug Discovery from Pathophysiologics Approach to Medicinal Chemistry and Process Chemistry
Biotechnology Research Field
Research
Subject
* Biochemistry
* Cell Biology
* Plant Science
* Molecular Biology
* Immunology
* Microbiology
* Histology
* Neuroscience
* Environmental Science
* Biochemistry
* Cell Biology
* Plant Science
* Molecular Biology
* Immunology
* Microbiology
* Histology
* Neuroscience
* Environmental Science
Applications
* Cancer
* Autoimmune
* Inflammation
* Environment
* Bone metabolism
* Diabetes
* Aging
* Plant
* Alzheimer
* Obesity
* Food Science
* Cancer
* Autoimmune
* Inflammation
* Environment
* Bone metabolism
* Diabetes
* Aging
* Plant
* Alzheimer
* Obesity
* Food Science
Products
* Antibodies
* Proteins
* Enzymes
* Fluorescent Dyes
* Transfection Reagents
* ELISA kits
* Antisera
* Carbohydrates
* Nucleic acids
* Culture media
* Consumables
* Lipids
* Sugar Chains
* Microorganism
* Antibodies
* Proteins
* Enzymes
* Fluorescent Dyes
* Transfection Reagents
* ELISA kits
* Antisera
* Carbohydrates
* Nucleic acids
* Culture media
* Consumables
* Lipids
* Sugar Chains
* Microorganism
Organic Chemistry
Research
Subject
* Organic Synthetic Chemistry
* Analytical Chemistry
* Green Chemistry
* Peptide Synthesis
* Material Science
* Natural Product Chemistry
* Organometallic Chemistry
Applications
* Coupling Reaction
* Suzuki Coupling Reaction
* Hiyama Coupling Reaction
* Stille Coupling Reaction
Products
* Organoborons
* Fluorides
* Metal Catalysts
* Monosaccharide
* Derivatives
* Compound Libraries
* PEG Derivatives
* Biodegradable Plastics
* Organosilicons
* Phosphorines
* Enzyme Catalysts
* Polysaccharides
* Building Blocks
* Porphyrins
* Polylactic acids
* Organotins
* Organobromine
* compounds
* Organocatalysts
* Rare Sugards
* Organic Intermediates
* Natural substances
* Organoborons
* Fluorides
* Metal Catalysts
* Monosaccharide
* Derivatives
* Compound Libraries
* PEG Derivatives
* Biodegradable Plastics
* Organosilicons
* Phosphorines
* Enzyme Catalysts
* Polysaccharides
* Building Blocks
* Porphyrins
* Polylactic acids
* Organotins
* Organobromine compounds
* Organocatalysts
* Rare Sugards
* Organic Intermediates
* Natural substances
Contact Us
FAX
osaka

06-6231-6149

tsukuba

029-848-3221